(1) What's the cost?
We charge 5% per deal as commission. Free to register and upload product.
(2) What is the requirement for registering as vendor on GlobalMai?
Any small and medium sized brands and businesses, independent businesses, , distributors; etc.;

Place of registration is outside of Mainland China.
(3) What are the landing processes?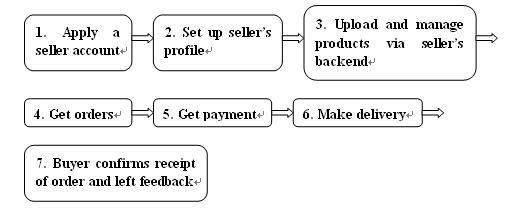 (4) How can I solve the logistics matter?
Transshipment service. For the following countries, we suggest transshipment service for your reference: U.S.A., UK, Canada, Japan, Australia, France, and Germany. This would be labor-saving and cost-saving for sellers. Simultaneously this can help increase small orders. Sellers from the above counties only need to ship the orders to domestic address assigned by transshipment companies in cooperation with GlobalMai platform. Sellers from other European countries that transshipping service hasn't been opened can consider shipping to the countries that transshipment service is available. GlobalMai will try to open transshipment service to more countries.

Postal service.

International express services.
Please refer to "Delivery" for detailed Transshipment companies' addresses for collecting parcels in the above mentioned countries.
(5) When will I get my payment for the goods?
Sellers can withdraw the payment once the orders are paid. The withdraw requests will be approved and payment will be released within 24 hours.

Recently only support PayPal to receive payments. More channels will be supported in the near future.
(6) I already have my own site/ Facebook profile for selling my products, why should I choose GlobalMai?
GlobalMai is one more channel for you to develop your business. It helps expand your business into the large consuming market – the China cross-border online shopping market.

If you want to expand China market, GlobalMai platform will be a perfect choice for you. Our platform mainly focuses on attracting vendors outside China to sell products to Chinese consumers, especially small and medium businesses, small and medium brands.
(7) What should I sell on GlobalMai?
All goods originate and are procured from places outside of Mainland China (Hong Kong Special Administrative Region, Macau Special Administrative Region and Taiwan are regarded as outside of Mainland China), and are original genuine overseas.

All goods that does not violate the laws in both sellers' and buyers' countries.

Long-tail products. In China, nearly only big brands oversea are introduced into China. We welcome all small and medium business, small and medium brands besides of big brands.
(8) I do not have either my own products or my own brands. Should I join in GlobalMai as a vendor?
Absolutely Yes! You can join as a purchase agent. If you find the right products at proper price, you will make money. In fact in China, for the same brand, the Chinese consumers would like to pay more money for quality products
(9) How does GlobalMai help you sell to Chinese consumers?
Services we offer:
An e-commerce backend in English for vendors to upload and manage product, manage orders.

A user site in Chinese for buyers, with localized payment method.

Chinese translation service.
Favorable terms for sellers:

Low-commission: 5% per deal.

Sign in per day to get points. The points will benefit vendors in two sections: rise of products' ranking; access to financial plan.

Each newly registered buyer can enjoy a 5% discount from vendors for the first one month. For the 5% discount, GlobalMai will subsidize vendors by remitting their 5% commission so as to stimulate transaction.
c) Channels by which GlobalMai will take to help you sell your products and do branding:
Online: forums; websites; social medias; out-door ads; videos.

Offline: Leaflets and sample distribution; other activities.